Dr. Drai Becomes an Official Sexual Health and Wellness Advisor for Astroglide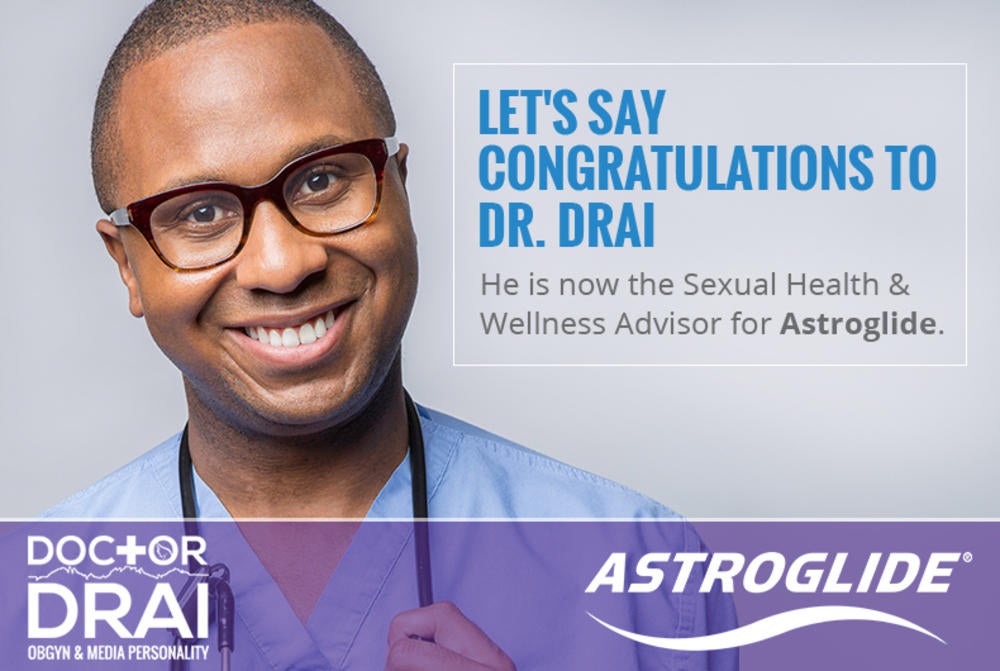 You can't spend much time at Astroglide HQ without learning a thing or two about sexual health, but while we like to pride ourselves on our scientific research and spirit of innovation, we know that when it comes to human sexuality, there's always more to learn. It's the reason we like to create connections with scientists, doctors, therapists and sex educators of all stripes — and it's why we couldn't be more excited to welcome a new member to the Astroglide team — Dr. Draion M. Burch.
Dr. Draion M. Burch, DO, or as he's more widely known, Dr. Drai, will be sharing his insights and expertise not only here on Astroglide.com, but also in interviews and articles across the web, on the radio and maybe even on your local and national newscast.
What sparked Dr. Drai's interest in Obstetrics and Gynecology? While he always loved playing doctor as a child, it was his grandmother's loss to ovarian cancer that inspired him to focus on the health of women. Over the years, Dr. Drai's experience and scope has grown -- and he now provides care and insight for patients of all sexes and genders, including care for a growing roster of transgender patients.
"We're committed to sharing up-to-date and inclusive knowledge about sexual health," says Helen Way, Senior Marketing Manager at Biofilm, Inc. "We know Dr. Drai is the perfect person to supply these insights, which is why we know he'll be an invaluable asset to the Astroglide community."
"I'm so excited to partner with Astroglide. We are both committed to making the world a healthier, safer, and sexier place. Good sexual health is just as important as good physical, mental, or spiritual health," says Dr. Drai
To learn more about Dr. Drai visit www.drdrai.com. While you probably already follow Astroglide on Facebook and Twitter, make sure to follow Dr. Drai on Facebook, Pinterest, Google+, YouTube, Twitter and Instagram too — you can thank us for all the awesome tips and laughs later!
Also be sure to get your copy of Dr. Drai's new book — 20 Things You May Not Know About the Penis — coming out August 11th.
---