ASTROGLIDE Encourages You to "Get Into Something Good"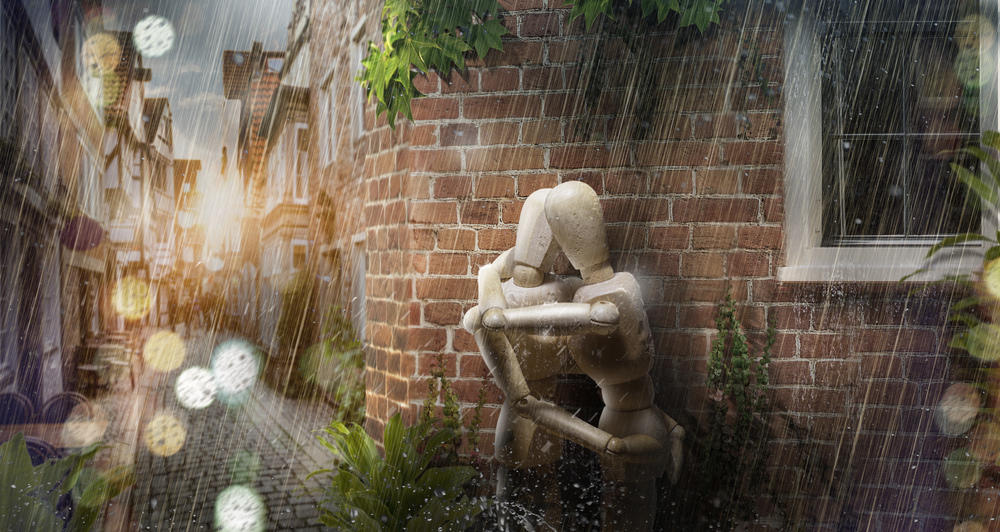 Have you searched the web for health products lately? If so, you may have noticed a lack of diversity in sexual orientation, gender, age or race. Another common shortcoming is the tendency of companies to insinuate that every type of person needs just one common product, regardless of their situation. At ASTROGLIDE, we celebrate the diversity of our customer base and the uniqueness of each individual's path to pleasure. We offer an array of products to suit each person's needs and desires and we wanted to showcase this commitment in our newly launched campaign -- "Get Into Something Good."
Who Are The Pleasure People?
To help spread our message of inclusivity, ASTROGLIDE partnered with the forward-thinking advertising agency, Experiences For Mankind (EFM). Rather than take the traditional route of hiring models or reverting to stock imagery, EFM opted to showcase ASTROGLIDE's brand pillars with an unorthodox approach. The agency created and captured a series of intimate moments enjoyed by intentionally ambiguous wooden art mannequins, affectionately known as The Pleasure People.
EFM's Senior Account Manager, Morgan Graham expounds:
"This ambiguity allows the campaign to focus on intimacy, leaving audiences open to interpret the scene while thinking about lube and its possibilities for their own sex lives."
In an industry largely focused on the majority, we are driven not to exclude individual needs and desires --ASTROGLIDE has a lube for every body.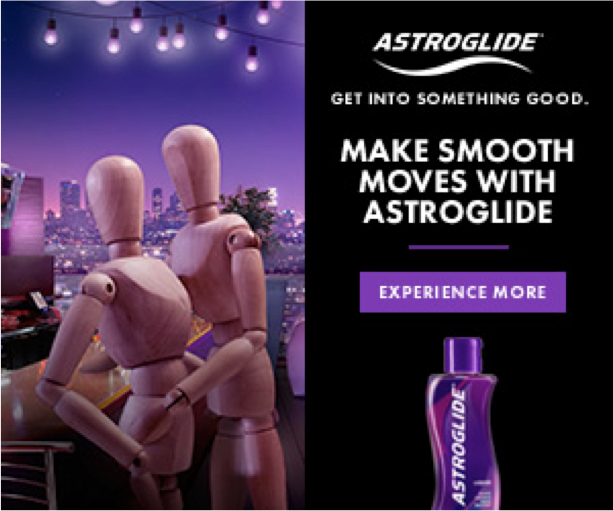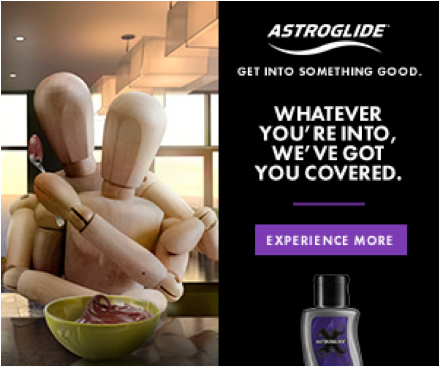 ASTROGLIDE Puts the Fun in Functional
ASTROGLIDE conducted qualitative and quantitative research in order to better understand the needs and desires of our customers. Through our research we identified diverse groups of lube users, and made sure that our branding was inclusive of all our customers.
A surprising 44 percent of the 1,000 lube users we surveyed view personal lubricant as a functional but vital component of their sex lives, rather than adding an additional element of fun. We've dedicated extensive resources to researching and promoting the functional benefits of personal lubrication but the focus of our "Get Into Something Good" campaign, is to showcase the blissfully fulfilling connections that can be experienced with lube. In other words, we're here to talk about the fun!
While we strive to promote and educate others about the importance of healthy sexual encounters among consenting adults, we prefer to simply provide the tools and inspiration and let our customers design their own passionate moments. Our head of marketing, Helen Way, eloquently describes the brand's unique customer relationship and overall position:
"We love and respect our customers enough to listen to what matters to them. While our commitment to safe, reliable products is well known within the industry, the single most important value we promise our customers is to create an environment free from judgment and full of pleasure that empowers individuals to embrace sex and sexuality."
Sure our advice might be broken down into a series of specific topics like: "What is the Male G-Spot?," "6 Sneaky Signs She's Into You" or even topics inexplicably considered to be taboo by our contemporaries such as "3 Myths About Bisexuality Busted." The difference is that we offer these articles, not just for the folks that they directly relate to, but as an ongoing narrative of the overall human story. We strive to educate and include everyone in the process as we become a more enlightened and tolerant society.
Enjoy Your Moment
Ultimately, our business comes down to pleasure. ASTROGLIDE isn't here to judge. We're here to provide you with the means to enhance your experience and get the most pleasure out of each moment. So savor your moment, be it planned (like the new parents sneaking home for a nooner) or spontaneous like the intimate moments you're witnessing our friends The Pleasure People about to enjoy!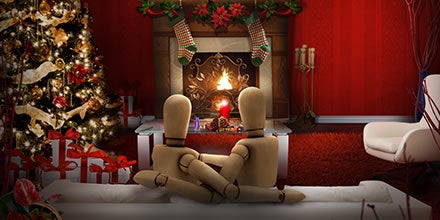 Images are for illustrative purposes only.
---